Techspace Learning is a Not-For-Profit organisation, providing a safe and inclusive space to learn, experiment, create and troubleshoot, all things electronic and robotic. From its humble beginnings as a "Robotics Club", Techspace Learning was formed to provide a teaching space for people of all ages. The organisation has grown each year and now employs many staff who keep the wheels turning, and the workshops running. This year (2021), has seen the biggest growth, with five additional team members now classified as "paid staff".
The team comprises of Workshop Facilitators, Workshop Assistants, Finance & HR, Marketing & Admin, Website development & maintenance, and Don, the founder and driving force behind everything Techspace Learning engages in. This article focuses on the staff who actively work with workshop participants and the public, however, this does not take away from those working behind the scenes. Nyssa, who ensures the business continues to manage its finances carefully, Irene, who works on promoting the business and encouraging people to "give it a go", and David, who keeps the website up to date and works on the graphic design of marketing material. There are also many committee members who volunteer their time and experience to ensuring this company continues to grow and nurture individuals who have a love for robotics.
Don started his career, in the entertainment industry as a sound engineer, travelling all around Australia and South East Asia supporting musical theatre. The list of shows and events that Don covered is extensive and impressive, however, years of long hours and time away from home took its toll, and Don gave up full-time sound engineering work to spend more time with his two boys, who were fast heading into their teen years. Don struggled to find activities to engage his boys, so in 2013, he decided to create a small a robotics club, to provide a space for his boys, their friends and other like-minded individuals. The club's aims were to have a safe space to create, learn and try new things in the world of electronics and robotics. The club started at the Hallett Cove School, where they rented one of the Electronics Lab classrooms, one evening a week.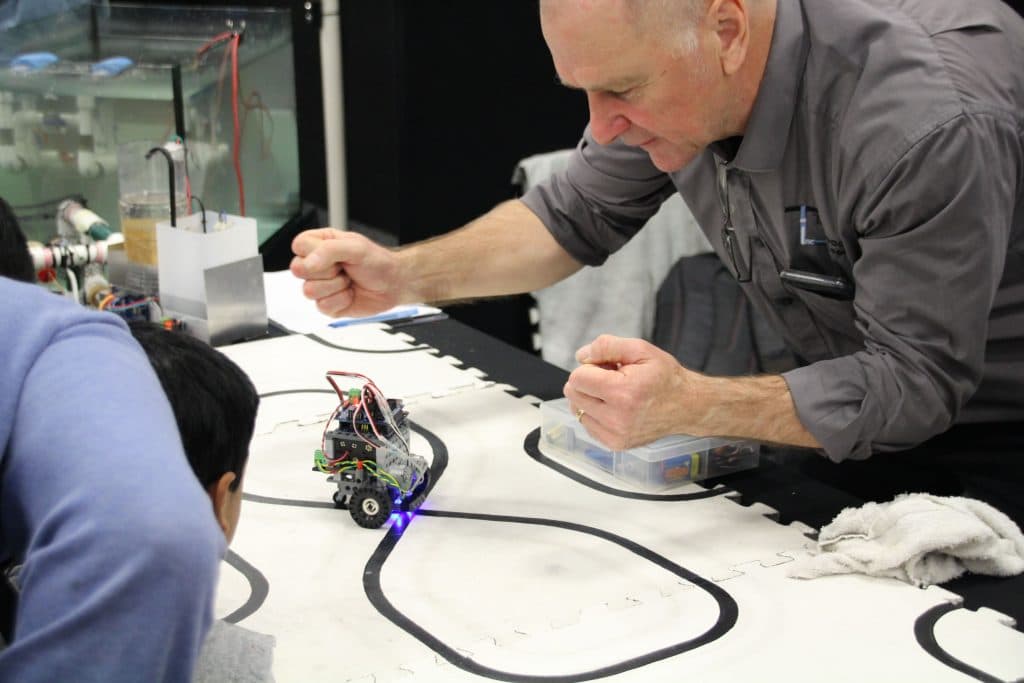 In 2017, Don gave up all work in the entertainment industry, to focus more on the Robotics Club and to be a fulltime house-husband. This gave him more opportunities to support his two boys who were now approaching the end of their high school years and heading into university. He started to formalise the teaching side of the club, and developed 8-week courses for different skill levels. And so, Techspace Learning began, as a separate entity, designed to "teach" the art of building and coding with Arduino microprocessors.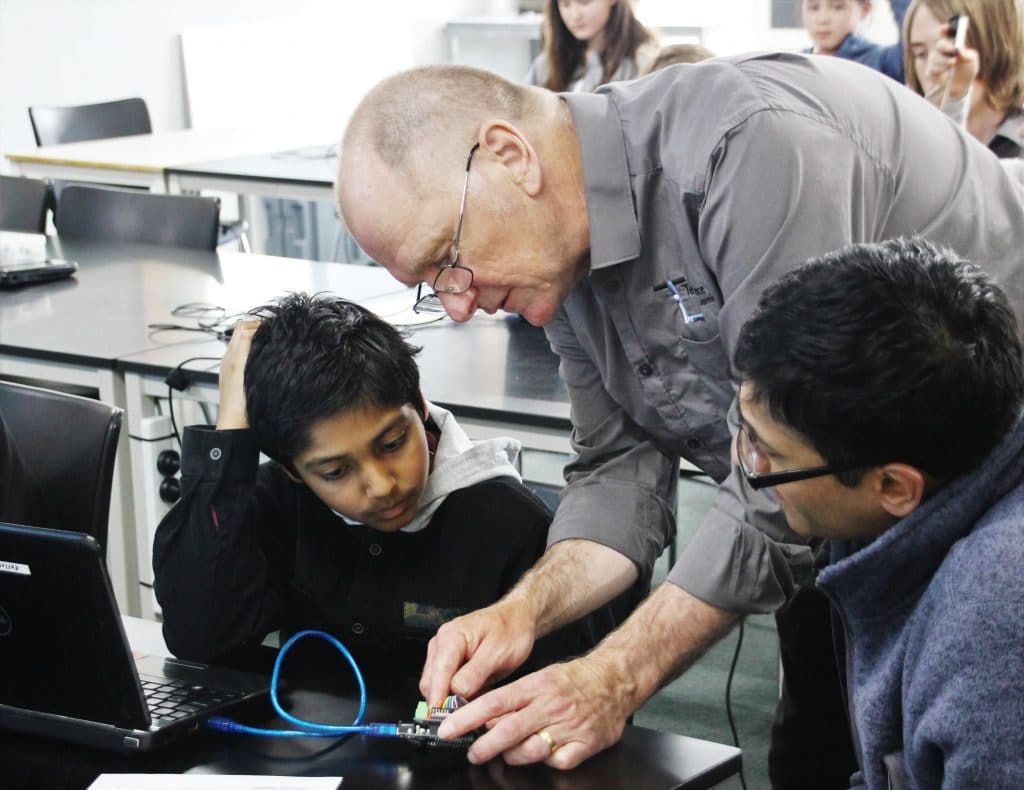 Today, Techspace Learning is a full-time job, delivering courses, and providing opportunities for different communities around Adelaide and beyond, to learn and interact with robotics. The desire to learn more in this area, clearly apparent in people of all ages. Parents are often overjoyed to see their kids engaged and committed to learning and using their creative minds in meaningful ways.
In 2019, Techspace Learning moved its operations to the upstairs floor of Aztronics in Sturt Street. This partnership made so much sense, and allowed the organisation to have a permanently setup classroom, which doubles as a space for the Adelaide City Robotics Club.
While Don never planned to become a business owner or director of an organisation, to see the smiles and confidence building side of the participants and club members, makes all the hard work and the learning curves of running a business, worthwhile.
Heath – Workshop Assistant
Heath is Don's oldest son and has always been a strong contributor to the growth and development of Techspace Learning and the Robotics club. He offers a younger perspective on what the people want, and has been a solid and active member of the club since it started, at the tender age of twelve.
He recalls a time in year 5, when his teacher asked all students to bring in something that described who they were. He had just 4 days to create something, and he designed, built, and coded a line following robot. His teacher was astounded and speechless, as this was something totally unexpected. Today, line following robots feature front and centre in our displays at Science Shows, and have been a part of the Beginners workshops series, a tribute to where it all began!
Heath now attends Flinders University, where he is in his second year studying a double degree in Computer Science and Robotic Engineering. Becoming a Workshop Assistant was a natural progression for him and he was one of the first assistants, along with his younger brother Flynn. He would quietly sit at the back of the room and help participants when Don asked him to. Of course, now, his confidence has grown and he is more proactive in guiding the students to success in their project building and coding. At club, he is somewhat of a mentor to the younger and less experienced attendees.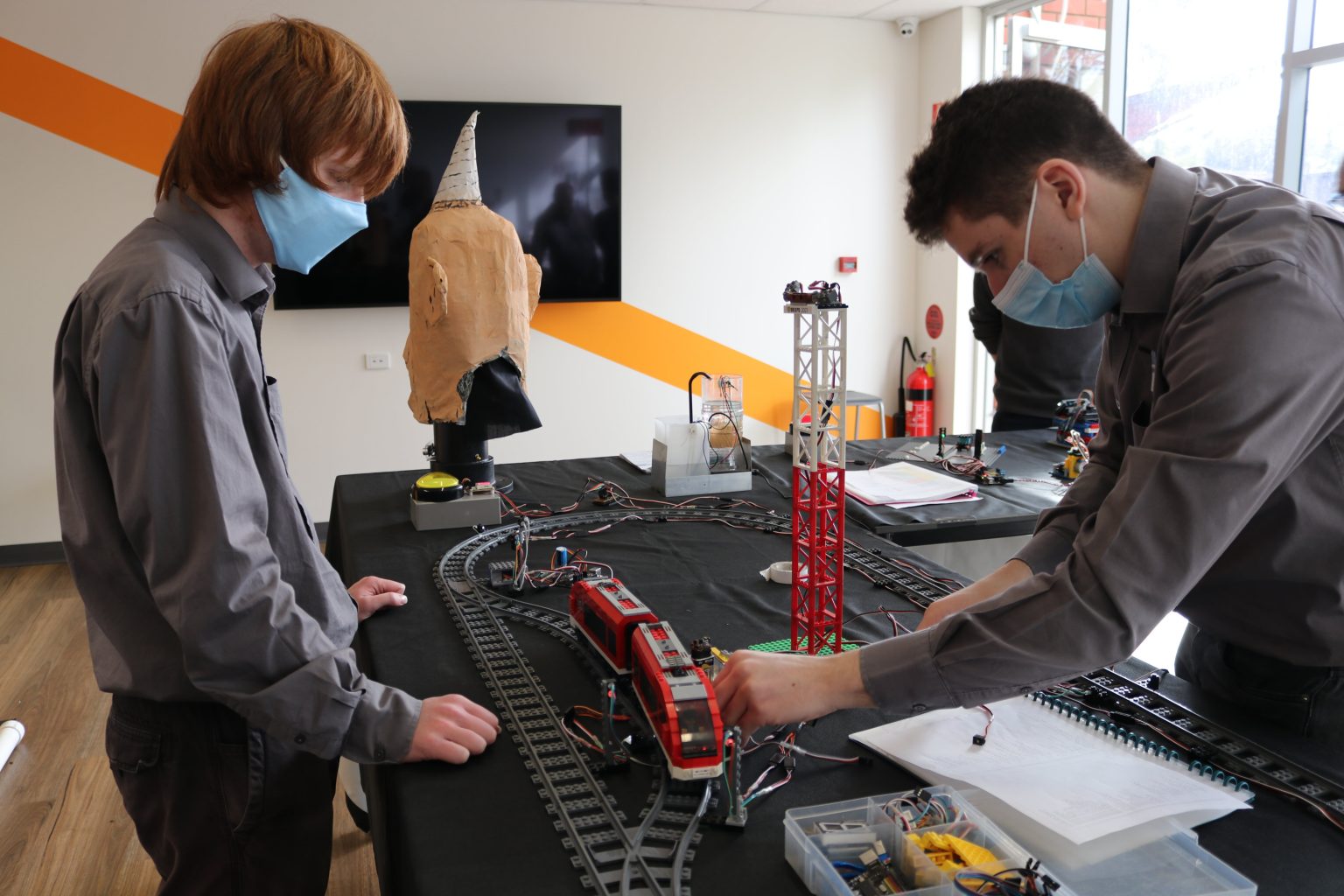 Pictured, Left: Heath. Right: Lance
When asked what he likes most about his work at Techspace, his answer came quickly and easily:
"The moment participants understand and can figure out their own problems, and you can see them going through the troubleshooting steps unassisted, is amazing and satisfying."
Lance – Workshop Assistant
Lance is another young man with a passion for all kinds of "geeky things", and is one of the original members of the Hallett Cove Robotics Club. Lance met Heath through the club, and they have remained friends ever since. Prior to joining the club, Lance looked for other clubs, groups or workshops to attend, and could only find a soldering workshop, which he attended, but it didn't really teach him what he wanted to learn. Lance was only 10 at the time, and he knew he was ready to learn more, and often found friendships in older kids.
Due to learning robotics at such a young age, Lance had the knowledge and experience to help out at robotics workshops and science displays. As Techspace Learning grew, the need for his assistance grew, and he soon became a paid member of the team, alongside Don, Heath and Flynn.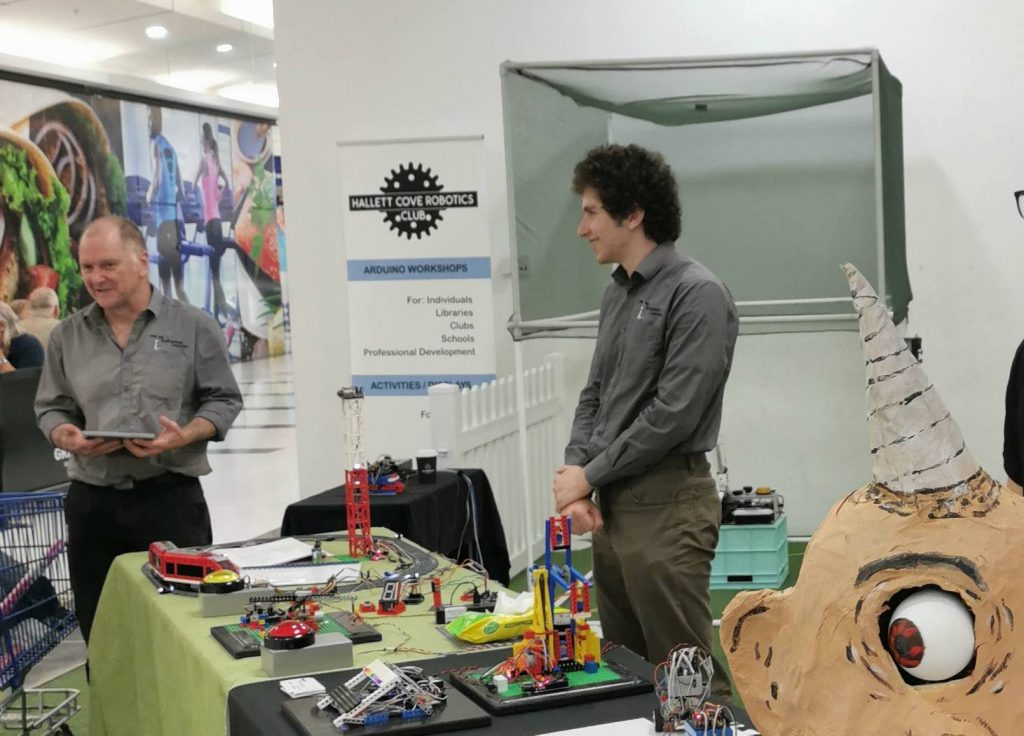 When asked what he likes most about being an assistant, he rubbed his chin, looked up at the ceiling and replied,
"I enjoy seeing people learn the material and begin fixing their own problems. At the beginning of a workshop series, participants are quite reliant on assistants to troubleshoot problems, both with the hardware (often plugging things in upside down) or with the coding (typos or forgetting some of the variables right at the start of the code), which is the foundation of the whole program. By the end of the eight weeks, participants are becoming more independent and are often able to solve problems on their own, and I love that."
When Lance is not working in a workshop series, or hanging out at the Robotics Club, he is finishing his year 12 certificate, and is planning to attend Flinders University next year, to study a double degree in Cyber security and Criminology. He is also an active member of the Techspace Learning committee and in the direction the business takes.
Hugh – Workshop Facilitator
Hugh became the second workshop facilitator at Techspace Learning, allowing the business to expand and grow beyond Don's expectations. Hugh brings fun and humour to learning, just like Don but in a different way, and as a recently achieved doctor of Software Engineering and Electronic Engineering, he is by far, the highest educated and qualified member of the team. His fun and silly nature however, means you rarely spend any time with Hugh, without a laugh or a smile on your face. He is just that kind of guy. He is also a very caring and nurturing human being, making him an excellent mentor to the younger members of the Robotics Club.
Outside of Techspace, Hugh works as an online University lecturer, teaching all courses in the associate degree in Engineering. His focus is generally in the first year students and this year, he is teaching chemistry courses as well. His students range in age from school leavers to adults changing careers. He enjoys meeting people and working with them on projects, making him a perfect fit for the Techspace Team.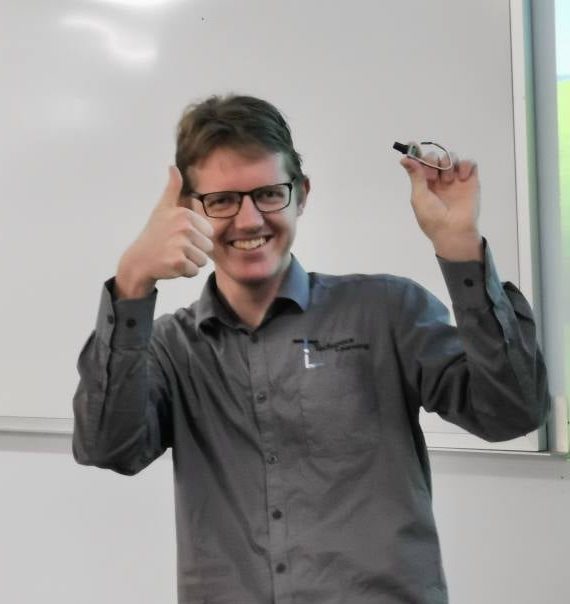 His journey with Techspace began when he was volunteering at the Australian Science & Maths school at Flinders, while at the same time, Don was conducting robotics workshops with students. They met each other and started talking, and Hugh liked the way Don talked about the Arduino processor and the projects they had already achieved with it. Don soon realised, having someone like Hugh on the team could potentially change the business dramatically, allowing for more workshops to be delivered in more locations, at the same time. It also meant the business could have contingencies in place.
It wasn't long before Hugh joined the team, the committee and the club, and he is now an integral part of the business. His fun and trouble-maker personality, means he is a great mentor to others, especially those who are shy and often experience social awkwardness, as he himself was a very shy child. He likes to create a space that is inclusive for everyone, and a safe environment for experimentation. He is truly a valued member and a great asset to Techspace Learning and those who spend time with him.
Sebastian – Workshop Assistant
Sebastian is one of the newest and youngest paid members of the team. He first attended a Beginners Workshop back in 2018, at the tender age of 9, and quickly became "hooked" by the coding and robotics bug. He took to working with the Arduino microprocessor like a duckling takes to water, and was eager to learn more and join the Robotics Club, first at Hallett Cove and later at Adelaide City. Sebastian has always been the first to volunteer for helping at Science Show displays, and two of his creations feature in most of the larger displays.
Sebastian lost his father to brain cancer in 2015, and while his Mum is an ex-IT Professional, she lacked the skills to teach him the electronics and coding that his father would have been able to. She constantly looked for activities to engage Sebastian's mature and inquisitive mind, but there was little in the area of STEM (Science, Technology, Engineering & Maths) that was pitched at a Beginners level, yet more advanced than Lego Mindstorms.
At a Science "Maker Fair" at Tonsley, Sebastian became very interested in a display that included a home-made Sea Perch, and she couldn't drag him away. She took a business card which read, "Hallett Cove Robotics Club", and the rest is history.
Sebastian became a paid Workshop Assistant this year (2021), as his dedication to club and constant volunteering and working very long hours at science shows (unpaid), displayed a young man who was ready for such a commitment. At a series of Introductory workshops held at Hallett Cove, Sebastian helped out as an unpaid assistant. One of the participants, a boy around the same age as Sebastian, had a problem with his project, and Sebastian began troubleshooting the problem with him. The boy interacted with Sebastian and proceeded to successfully complete his project, thrilled with his achievement. The mum of this boy, later explained to Don, that her son rarely interacted with strangers, and she was so happy to see him comfortably interact with Sebastian. The boy went on to complete two series of Beginners workshops, and is now a member of the Robotics Club, finding his "tribe" with other young people who love robotics, making friends and laughing along with Hugh's antics.
Meet The Techspace Learning Team